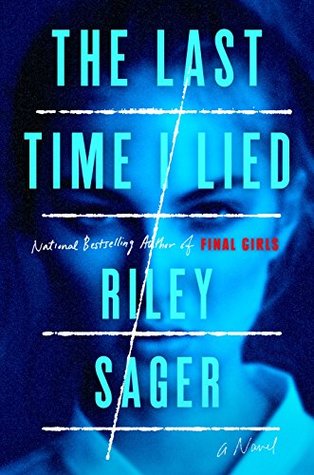 The Last Time I Lied by Riley Sager
Release Date: July 10, 2018
Publisher: Dutton
Pages: 336 pages
Source: Edelweiss
Description from GoodReads: "A shocking discovery on a honeymoon in paradise changes the lives of a picture-Two Truths and a Lie. The girls played it all the time in their tiny cabin at Camp Nightingale. Vivian, Natalie, Allison, and first-time camper Emma Davis, the youngest of the group. The games ended when Emma sleepily watched the others sneak out of the cabin in the dead of night. The last she--or anyone--saw of them was Vivian closing the cabin door behind her, hushing Emma with a finger pressed to her lips.
Now a rising star in the New York art scene, Emma turns her past into paintings--massive canvases filled with dark leaves and gnarled branches that cover ghostly shapes in white dresses. The paintings catch the attention of Francesca Harris-White, the socialite and wealthy owner of Camp Nightingale. When Francesca implores her to return to the newly reopened camp as a painting instructor, Emma sees an opportunity to try to find out what really happened to her friends.
Yet it's immediately clear that all is not right at Camp Nightingale. Already haunted by memories from fifteen years ago, Emma discovers a security camera pointed directly at her cabin, mounting mistrust from Francesca and, most disturbing of all, cryptic clues Vivian left behind about the camp's twisted origins. As she digs deeper, Emma finds herself sorting through lies from the past while facing threats from both man and nature in the present.
And the closer she gets to the truth about Camp Nightingale, the more she realizes it may come at a deadly price."
There is SO much I loved about this book - I don't even know where to start! This is the best psychological thriller that I have read in 2018! One of the best I have read maybe ever!
Emma goes to Camp Nightingale – a summer camp – as a 13 year old (making this also a perfect read for summer!) and ends up bunking with 3 older girls. One of which is Vivian, a charismatic girl everyone is drawn to, who takes Emma under her wing. But then the 3 girls mysteriously vanish, leaving only Emma behind in their cabin.
Fifteen years later, the camp is reopening and Emma goes back seeking closure as an instructor. She has been painting the missing girls and covering them in forest like the one surrounding Camp Nightingale for years, never able to fully move on.
As we travel back and forth between both timelines, more and more secrets, questions and mysteries creep to the surface.
My favorite thing about the book was the unreliable narrator. I love a narrator with secrets and issues and Emma totally delivers! She is struggling with her past and you are rooting for her, but as time goes on you are questioning everything – her included!
I also loved the creep-factor of this novel! You can totally see an aerial view setting the stage of this idyllic setting with creepy background music and dark fuzzy edges, forewarning you of the horrors within. It was suspenseful, mysterious and totally eery without a lot of graphic gore or violence.
I LOVED this book! I LOVED the ending! I finished and instantly moved it to my GoodReads favorites shelf.
YOU
need this book if you can read!
Entertainment Value: 5
Characters: 5
Voice: 5
Plot: 5
Overall: 5 stars!!
Thank you to Edelweiss for the ARC in exchange for my honest review!